INDIA'S BIGGEST NIGHTLIFE BRAND
PRESENTS
WAR OF DJS
Experience: All the Action from India's Biggest DJ Battle by Tito's
Tito's, the biggest brand in Nightlife & Entertainment is hosting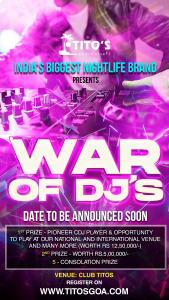 War of DJs for all International and National Artists. War of DJs will pit some of the country's top DJ crews against each other in a showdown to end all showdowns.
The competition is fierce and each round is judged on how well the DJs can whip the crowd into a frenzy and battle it out for their chance to be the reigning champs. With drinks, music, and unmissable fun, DJs can enter the competition on 2nd October, Sunday.
Fans can vote for their favorite DJs and the top 12 DJs will be then invited to compete in the war at Club Tito's on final date will be announced to duke it out.
Registration Closed.
Auditions are on 2nd October, 9th October and 30th October 2022
Registration Fee : ₹ 100/-
Entry Fee : ₹ 1999/- (Note: Contestants will be allowed for Auditions once Entry Fee payment is done)
PRIZE
WINNER – gets PIONEER CDJ Player and a chance to play at our national and international venue (plus many more)
WINNER – gets prizes worth INR 12,50,000
RUNNER-UP – will be awarded INR 5,00,000
10 Consolation prizes for rest
War of DJS by Tito's
War of DJs by Tito's is created to bring domestic and International DJs together along with an adrenaline-induced level of entertainment to the Goan market that offers an influential, energetic and biggest event yet! It's time to turn up and get down for one of the biggest finals.
A limited number of opportunities are currently available, so start registering below.