Tito's Club Goa, where every moment is outstanding
Though it isn't a marathon task to find out a place to stay in Goa, finding out something that thrills you is not that easy. However, there is a place where you can have everything outstanding, the Titos Club Goa.  It is not just a beach resort, but a superlative experience that makes your holidays a lifetime experience. We have built it with the intention of offering real value for money. The beachside bliss is so captivating that you don't feel like going back to the bore and routine life. Also, it is sure that you come to us next time you visit Goa.
Tito's Club has one of the finest restaurants in Goa where you find a plethora of Goan and other delicacies. Our multi-cuisine dining place is not restricted to the boundaries of India but offers platters from well-known international cuisines. The pool site is an ideal place for Goa beach party where you have the best DJs playing the rocking numbers and the smoothest of drinks.  We bring truly five-star resort that takes care of your needs up to the maximum extent!
It gives you more than what you expect from night clubs in Goa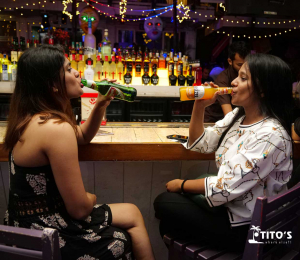 When you book a night club in Goa, great food and drinks are the basic expectations. You need superb surroundings and great hospitality. You should have a long list of platters to choose from and spas that relax the nerves. Yes, Titos baga Goa has everything that meets your expectations. Over and above, we have something more exciting for you. The finest collection of food and beverages, and artistically designed food courts and party halls make each moment unique. Book the best place in Goa that brings the real essence of this magnificent place!
In the modern world, everybody wants an escape from the tensions and stress of professional life. No wonder, exotic tourist places like Goa are crowded with people from every nook and corner of the world. There are lively beaches, exotic food and wonderful places to enjoy.  It is called the sand paradise where everyone has something exciting and thrilling. When you spend enjoyable time in the finest of the resorts in Goa, you don't feel like going back. We offer an unforgettable experience for you.  Whether it is night beach party in Goa or water sports on the sun-kissed beach, we guarantee that you experience the best time in Goa!